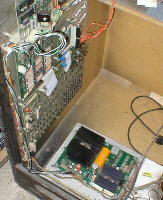 Missing loom fitted.
The missing loom in place and Horror of Horror's i'm still missing things, talk about a pain in the arse !! Before i went looking on Ebay i decided to find out exactly which bits i was still missing, so that i dont take it for granted again that i have all the bits. Whilst i had the chance, i took a look at 2 of Oll's defender cabs and it seems i am missing not one but two more looms :(
Defender must have about 6 different looms inside it, and the two i have left to get are, the one that runs from the sound pcb to the speaker loom, that ends in a connector just by the side of where the monitor should go, but clipped to the inside of the cab, its only 2 wires a red and a black. The second missing loom is the one that goes from the rom pcb to the monitor, which supplys RGB etc to the monitor, this one looks like it is nearly all purple wires with different colour tracers, hunting these down again could take some time, and now that i am so close to getting it running, i have Dave 2084 making me these, for £20.00 the pair inc postage. Dave is a handy guy to know and you can find his Web site on my links page.